Book your stag do or hen do with us!
The best place in Hereford to have a Birthday, Corporate do, Stag/Hen do or Celebration! 
Get your friends, family and colleagues together and come on down to Matrix for some fun. Our activities are great for groups with something to suit all ages and abilities.
looking for somewhere in hereford to spend a special day ?
Great! We got you covered, just send us your enquiry and we can come up with a package best suited for you. We have a cool, funky room which can be hired for a Corporate Do or a Stag/Hen Do.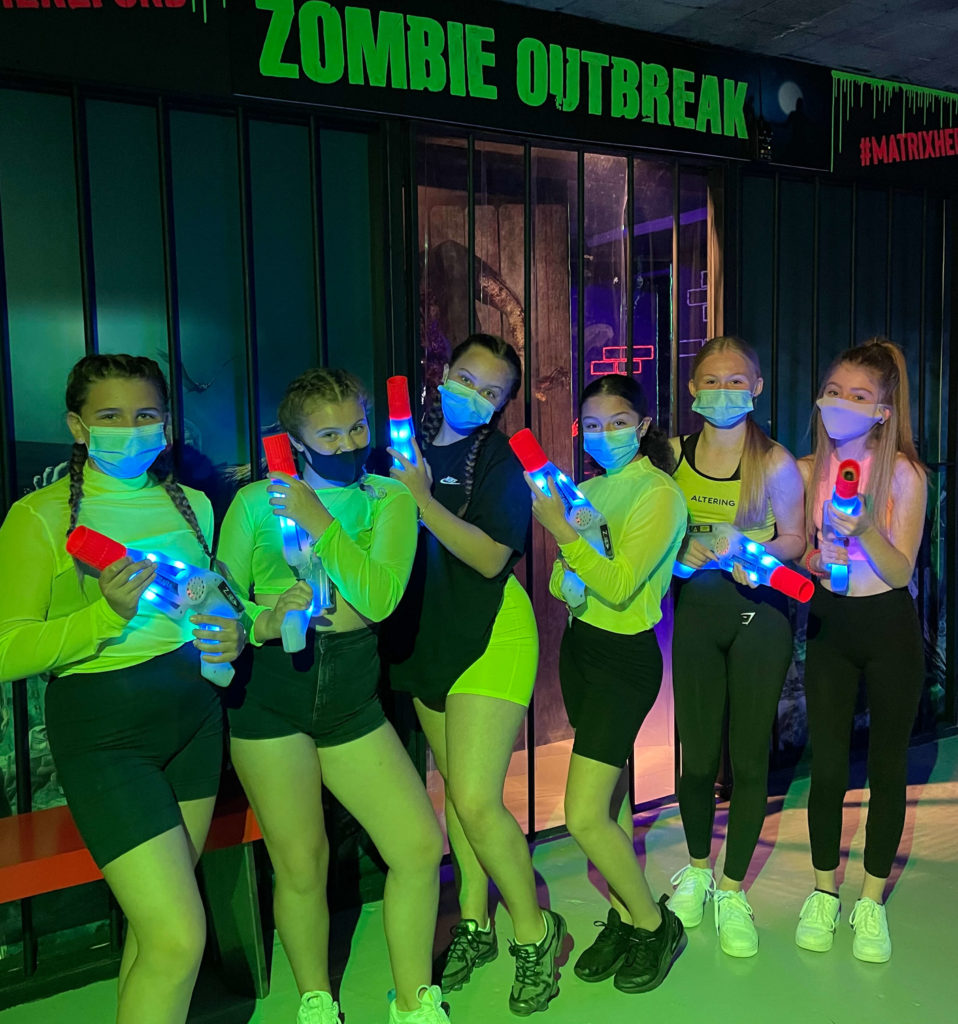 Exciting fun for groups of up to 12 players per session of 3 games. Suitable age 8+
Awesome fun for groups of up to 8 throwers per lane. We have 3 lanes available so maximum capacity is 24 players for a one hour session. Party room hire can be added to this activity on request. Suitable age 13+ (with adult).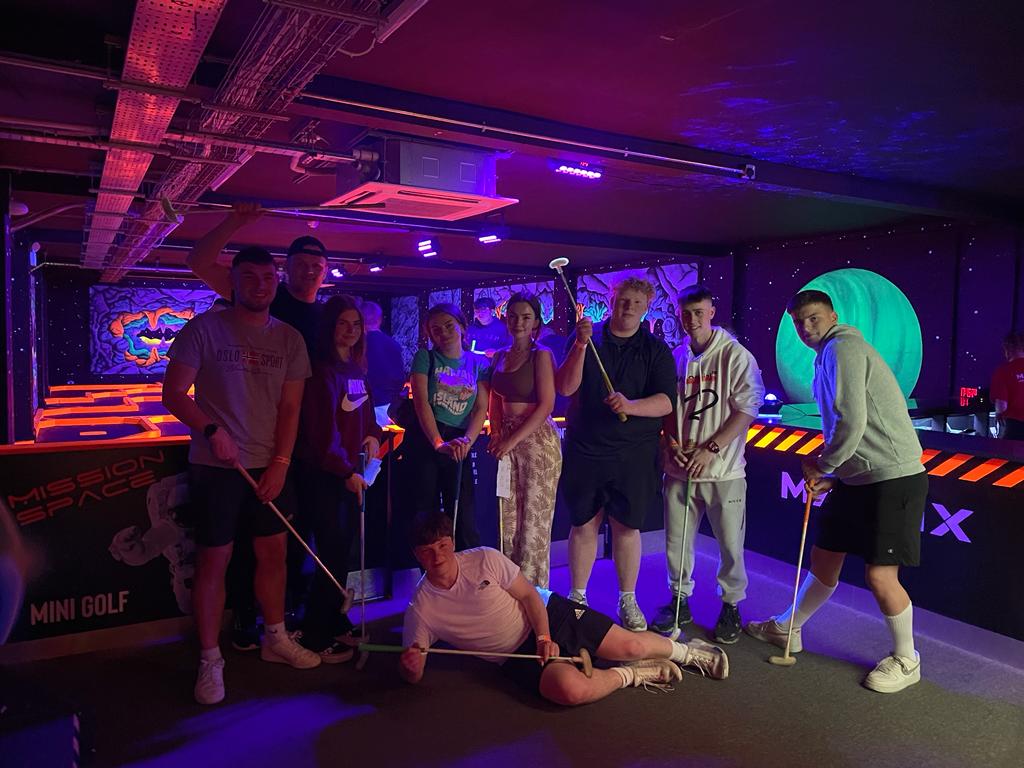 Cosmic fun for large groups. 6 players tee off every 15 mins, up to 24 players per hour on the course. Suitable age 4+
We have an exclusive use option which holds capacity please go ahead and book this for group sizes of 12-24, if you have a very large group and will exceed the capacity please enquire at info@matrixhereford.co.uk
CHECK OUT OUR GOOGLE & FACEBOOK REVIEWS...
This is a great place for all the familyThe lazer tag is amazing fun for all age's. Mini golf is great fun and axe throwing well it brings the lumber Jack out in you. The arcade is fun and they have table tennis what a great day out.

Staff super friendly, mini golf was great, good selection of food and drinks at reasonable prices!

Thoroughly enjoy the axe throwing experience, friendly staff with great instruction & the hot chocolate is fab too. Great new place. 🪓🎯

Had great fun today playing mini golf and having a go at axe throwing. All of the staff were friendly and welcoming and our axe throwing instructor, Emma, was particularly fantastic. Will definitely be coming back again soon.
Booked a couple of events and spent four hours here recently with the grand children. Had great fun. Will be back.

Kids had a fantastic time on a wet Sunday bank holiday afternoon, playing Laser Tag, and enjoying the arcade games. Whilst all enjoying the sweet treats and drinks available.
The staff were very friendly and attentive and even allowed the adults to join in for a free game as there was only 2 of them for Laser and they wanted to ensure they had a fun experience!! Thank you so much 😊 We will definitely be returning ⭐️⭐️⭐️⭐️
Me and my husband had a great time playing the mini golf here and the lads who were working there were very friendly.

Great fun. Staff very friendly and helpful. Would highly recommend as something for all the family.

Just like to say we had a fantastic evening last week at Matrix and thank you to all the team, they were great

An absolutely amazing atmosphere with cool art covering the walls. The crazy golf was really funky and the laser tag makes you feel like you're in a different world. There is a great variety of drinks and ice creams. Coming back for the great experiences!

Had a great time today axe throwing, all the staff were very welcoming and our instructor in particular was amazing. She was very patient and enthusiastic. She showed us lots of different techniques and competitive games. Will definitely visit again!

What a great family afternoon out,We started off with the space themed mini golf which looks crazy with neon paint and black lights and huge space canvases hung on walls. After this we did a little axe throwing which is just the best fun and then finished up with a few of the arcade games.The staff are super friendly and the place is kept really clean with tables well distanced and social measure all very visible, couldnt recomend enough we shall return sooner rather than later

Extremely friendly and efficient staff (which is, IMO, the foundations of a successful business). My partner and I each had a coffee, both were made extremely well. The soft play is small but great for our 21 month old. she loved it. we will be returning.
Staff were great. We had a great time axe throwing.

I visited today with my three grandchildren what a fabulous venue. We did the golf today but we shall be back to experience the other activities. We really enjoyed ourselves so much and staff were excellent friendly and helpful. The whole experience was fab and another bonus it was so reasonable. Thank you for a great time. Nanny Mo. And the little monsters. Only joking. 😊😊😊
Be sure to sign waivers before arriving Brilliant place and a good use of the increasing amount of empty retail premises. Our axe throwing instructor was brilliant (Emma). However be sure you have signed the waiver when booking, to ensure a prompt start to the axe throwing. Very time consuming if you do it when you arrive. Waivers have to be signed for/by each person taking part too. Even with this little hiccup (which was probably our fault for not reading all the conditions and instructions) we had a great time.

Laser tag a must Played crazy golf and laser tag and ping pong top of the list was the laser tag will definitely come back for more games ! Crazy golf was ok little bit too easy enjoyed the ping pong too . Very clean and all staff were very friendly and helpful .

Great We went on Wednesday and had a great time at there laser tag, we was 2 families of 7, 3 adults 4 kids we had so much fun we are going back Friday, staff are really friendly and helpful. Thank you

Great fun Booked soft play here for 2 children. Amazing atmosphere, staff very friendly, lots of choices of drinks & snacks available. Chocolate milkshakes were lovely! Kids loved the arcade, toilets were very clean & staff members cleaning throughout visit. Would highly recommend this place the kids loved it. Will definitely be going back to use other facilities available too.

A thoroughly enjoyable visit Visited with grandchildren. We all thoroughly enjoyed all the attractions including mini-golf, laser tag and axe throwing. Great fun. Very friendly staff and great tuition. Children loved the games area. Coffee and ice cream was of good quality and reasonably priced. The kids both want to have their birthday parties here.

Super cool place , great fun for all ages ! I took my 13 year old and 5 friends to Laser Tag for his birthday they had a fab time whilst we had a game of crazy golf !

Family Visit We had a great day out with 9 and 13 year old grandchildren. All of attractions are really good with the Axe Throwing and Laser Tag being top of the list. The instruction and safety briefing given is also excellent. I throughly recommend the Matrix.

Great fun for all ages Lovely staff, clean fresh facilities, and best of all, something for kids and adults of all ages. The older ones can go play golf or laser tag, or even axe throwing, while the younger ones can play in the soft play area. They all loved the arcade - air hockey was a big hit. The only downside is lack of wheelchair access to the laser tag, but you can get wheelchairs through the cafe, arcade and axe throwing, and the accessible loo is good access, big enough for wheelchair user and assistant if needed. Not changing places size - but there is a changing places facility 5 minutes walk away.
SIGN UP TO FOR EXCLUSIVE OFFERS, NEWS AND EVENTS.
Enter your details to stay informed of our upcoming events and special discounts